The '80s, '90s, 2000 and 2001
A collection of different photos, subjects and people.
---
Click a link in the list to view a photo presentation.
Canal Zone Cyber Museum Photo of the Week

Every Sunday
A collection of photos of the Annual Ocean to Ocean Cayuco Race:

The "Slave Galley" 1983
The "After Me" 1984
Cayuco Race in the Locks
1998 Ocean to Ocean Cayuco Race


1999 Ocean to Ocean Cayuco Race
2000 Ocean to Ocean Cayuco Race - And it lives on!


Bottle and Relic Digging
The Slide and Waterfalls in the Cut
Norm's Page - Photos of the CZ and Panama


Danny Norman's Page - Photos of the CZ and Panama
The Last U.S. Independence Day Parade in Panama - 4th of July 1995
Fort Sherman Panama - Home of the Jungle Operation Training Battalion (JOTB). A view from above.
Fishing in Panama with Winkie and Denise
Gamboa 1998 - 1999


Our Trip to Panama - 1999


Canal Zone Statue of Liberty
ICC Locomotive 201
A Trip to Bocas Del Toro
Galapagos Discovery Passenger Ship Burns in the Panama Canal
The Balboa Yacht Club - May 2000


French Locomotive Raised from the depths of Gatun Lake


The Beauty of Panama - By Maria Claus
Corredor Sur Photos...
New Panama Railroad taking shape - January 21, 2001


Friend of Many Zonians - The Cosman Price Story
Canal Zone Christmas Lights and Decorations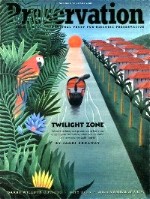 Click this image to view the Preservation Magazine's article "Zoning Out"




Home| Photo of the Week | Photo Archives | Main Show Room | Photo Room | Military History
PC History | Sign Guest Book | Read Guest Book | CZ Web Searcher
Gift Shop | Book Store | Links