---
This photo album is of Gamboa and what it looks like today. These photos were taken in the month of April, 1999, by Mike and Jeff Norman. While some of the photos are rather disturbing, some depict a brighter future for our old town. I know you Gambodians will like this. I have broken it down in two parts. Gamboa scenes and the preparation of the ridge, golf course and marina for the new Gamboa Tropical Rainforest Resort.
---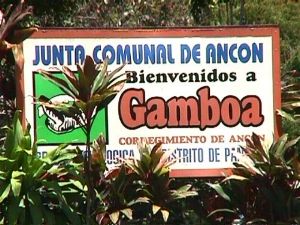 This sign is in the triangle next to the Union Church as you enter Gamboa.
Click a thumbnail for a large image.
---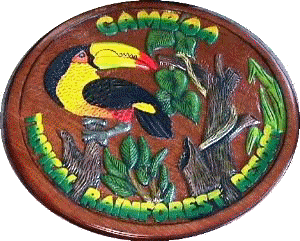 The former "Ridge, Golf Course and Marina" under construction.

Click a thumbnail for a large image.
---
Updated photos of the Gamboa Resort project. July 1999

My son Jeff and I found ourselves with some time on our hands, so we went out to the Gamboa Resort to see what we could see. Jeff had an in, and we were given a super tour that pictures don't do justice to.
They have an orchid nursery and indigenous plant nursery. They are putting walking paths in very discreet places so as not to disturb the flora and will plant more as the nursery begins to produce. They have 15 brand new 18' boats with Yamaha 90's on them, equipped for "fishing" (water skiing was my thought but that disturbs the natural flow of things) that can be rented by the day with a guide/operator. There are three pontoon boats for the present with plans to add more for group river tours, lake outings and that sort of thing. It's really quite amazing what they've done and have planned for the future. I'm afraid that I can never do justice with these meager pictures and a couple written words. You have to see it for yourselves.
The marina is looking good. No public storage but dock space is available for boaters to come into the marina and restaurant. We were told that the marina will open middle of next month. The main hotel is going to be huge. They have restored nearly all of the Ridge Houses to original condition, it really looks nice. The "apartment unit" that is going up impressed me in that they are following the same architecture of the old houses. It wasn't until I got right up close to the building that I realized the siding is concrete, made to look like the old wood siding. No termites there!
---
Back to Photo Room / Back to Norm's Page