---
Diablicos Sucios
by Orlando Hernandez
The devil dances have their origin in European masques. Especially after the plague, the macabre and the devil were themes for many celebrations. In the case of the devil dances in Panama, they all serve a religious purpose: the evangelization of the other. So they came to be a vivid image of the battle between good and evil that promoted conversion. Most of the devil dances are usually practiced for the religious feast of Corpus Christi, that celebrates the presence of Jesus in the host. These practices are colonial, but there are no dates that we can specify as to when or where they started. Most probably very early in the 16th century.
The Diablicos Sucios (shown above and below) are the ones from Los Santos and Chitre. They wear red and black stripped suits that originally were painted with charcoal and "achiote" over cotton "manta sucia" and carried an animal bladder that usually stank; when they danced and sweated the colors ran off making a dirty look-hence the name "sucios". The cone that they use to hold the mask is beautifully decorated with red guacamaya feathers. They also use castanets and a stick. There is no narrative sequence in this dance.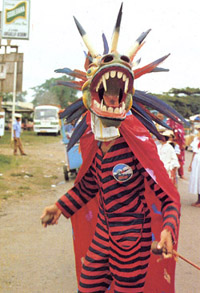 Post Card - Distribuidora Lewis, S.A.
The Diablos Limpios (or la Danza del Grandiablo) (below) from La Villa, Chorrera, and Chitre, is the most Europeanized version. The dress consists of devil masks and a white dress and pants decorated with multicolored satin handkerchiefs and bells. The dance is a religious drama with several designated characters (El Grandiablo, Diablo Capitan, La Diabla, Caracolito, the Sould and St. Michael) in which the devil and his troop fight with St. Michael for the possession of a human soul. It is celebrated on Corpus Christi.

Photo by W.P. McLaughlin
The Diablos Espejos (below) from Colon are usually dressed in black or red. The origin of the dance is European but has definitely acquired African elements. The black population that practices this is not West Indian, but is what has been called Afro-colonial which defines the black population that came under the Spanish colonial system as slaves, way before the West Indians came to build the canal. They practice it around carnivals and the dance includes an interesting episode where the devil is baptized.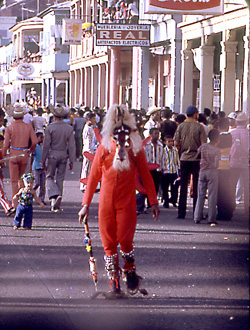 Photo by W.P. McLaughlin
There are other devil dances around the country like the Cucua (below) in Cocle, who make costumes from the cucua tree bark and deer horns.

---