The Isthmian community has accepted the garden as its own and many church and community functions are held there.

---
One of the most beautiful and best known flower gardens on the Isthmus was started in 1930-with a bang. It was a whole series of hangs in fact. When U.S. Army engineers at the nearby post of Corozal rushed to investigate the noise, they found that Charles P. Morgan and his wife Pat were preparing the land to plant flowers for the Ancon Greenhouse.
In order to do the job properly, they had to get rid of the hardy leaf-cutting or army ants. This was done by filling the ant holes with carbon bisulphide which was then ignited. The resulting explosions went off in series through the ants' nests. It is an old fashioned, hut effective method of killing ants.
The site which is now Morgan's Garden is located 5 miles north of Balboa in the vicinity of Corozal. It was leased to Mr. and Mrs. Morgan to replace their Santa Cruz flower farm, near where the Ancon Freight house is now located. The property was needed by the Canal Zone Government. On this farm, Mr. Morgan's mother, Mary, had grown flowers for the greenhouse retail store in Ancon.
Morgan and his mother had come to the Canal Zone during construction days and while she got interested in flower growing, he was employed by the Panama Railroad and later by Grounds Maintenance on the Pacific side. Mrs. Pat Morgan was an operating room nurse at Gorgas, then Ancon Hospital. She too became devoted to flower growing after marrying Morgan in the 1920's.
Pigeon Hill
The hill on which the Morgan family built their home and garden in 1930 was called Pigeon Hill in the pre-Canal times. And during the early years, the Morgan family often had to dodge shots from pigeon hunters.
Mrs. Morgan now operates the gar den alone since the death of her husband and mother An-law. The first thing they did after killing the ants was to build a road into the property. It took 2 years since the rock had to be blasted from the side of the hill. At the same time they planted the stately royal palms on one side and coconut palms on the other. Mrs. Morgan went against her husband's wishes and put in banyan trees which now completely stir-round the 4-hectare plot of land.
For most of the success of the garden, Mrs. Morgan gives credit to William White, a native of Barbados, who started working with the elder Mrs. Morgan in 1919.

Framed by palm fronds, Mrs. Morgan waters her lawn next to her Spanish style home.
Shrubs, Plants
She says that White taught her nearly everything she now knows about gardening, which was plenty. He planted nearly all the various shrubs and plants at the garden and retired only 2 years ago because of his age-then 84.
Like nearly everyone else on the Isthmus, Pat had trouble with her first batch of rose bushes which were brought here from Florida. They grew very well but insects ate the leaves and ruined the plants. She devised a method of putting lighted candles placed in dishes filled with water nearby. Believe it or not, the hugs were attracted by the light, and burned in the candle flame or were drowned. She says she later learned that a similar method has been used in the Philippines for hundreds of years.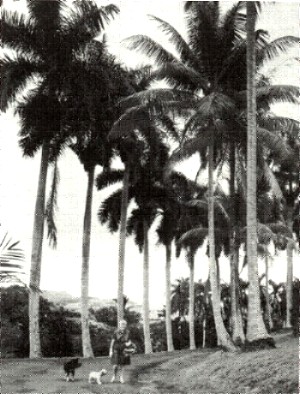 At the entrance to the garden, Mrs. Morgan and her two companions, Alice and Jimmy, stroll among royal and coconut palms, planted in 1930.

The Secrets
She also had good luck with gladiolas. She planted a great variety of them and had orders from as far away as Holland. One of the best is a variety imported from Africa called "glorius rotschildiana." She didn't have much luck with "anturium", an exotic plant difficult to cultivate, until an official from the Trinidad Government came by one day and explained the secrets of its cultivation.
Pat Morgan, however, takes most pride in making her garden beautiful and then sharing it with members of the community. In addition to the flora, the compound contains a main house, designed by a prominent Panamanian architect; a chapel; a swimming pool; and a guest house. Everyone is welcome to visit any day and Pat Morgan is delighted when she sees men with their families, mothers with children, and teachers with pupils visiting the garden and examining the variety of plants.
Community Functions
The Isthmian community has accepted Morgan's Garden as its own and many of the church and community festivals and affairs are held there.
During her many years spent with plants, she has had a number of experiences but none so hair raising as the time recently when she put her hand under a plant and was bitten by a poisonous snake. She promptly fainted, fell on a water pipe, fractured her wrist and broke the pipe The resulting spray of water called her plight to the attention of White who called an ambulance.
Shares Knowledge
In addition to gardening, Pat took up flower arranging and received her first lessons from an expert-a Japanese who came to Panama on a goodwill tour. She became so interested that she decided to share her knowledge with her friends and neighbors on the Isthmus and held her own classes. At one session she had about 300 students.
Pat says with pride that most of the garden clubs in Panama were started by students in her classes. A colonel in the U.S. Army told her that her classes helped him know Panama, its flowers. and the people more than any other activity during the time he was stationed here.
Distinguished Members
Her Cardenas River Garden Club, founded nearly 30 years ago, has had such distinguished members as the wives of presidents of Panama, former Panama President Tomás Gabriel Duque, and Gen. Matthew B. Ridgeway (USA Ret.) and his wife. the University of Panama through Dean Dr. Octavio Mendez Pereira, gave her a gold medal in appreciation of her cooperation in designing the gardens around the university and her gift of 250 ornamental plants.
Pat has traveled extensively through the Republic of Panama and has helped hundreds of Panamanian farmers to obtain better results with their flowers and plants. In 1962, the Republic of Panama recognized her work by presenting her with the Order of Vasco Nunez de Balboa in the grade of Commander.
---
Those glorious days we all knew and loved at Morgan's Garden, is just another memory today. Mrs. Morgan passed away many years ago and the Gardens were kept open in a very limited capacity. In the later years, my wife and I would go up into the Gardens and buy plants and flowers. I would always take the opportunity to walk around the grounds where we used to have so much fun when kids at the fair. Bill McLaughlin