Jacque Crowell - Vowell's
Personal Page
"Then"
and
"Now"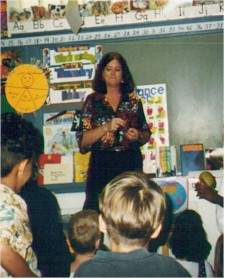 Bio:

Married Charlie Vowell in 1974, 2 children, daughter Casey in high school and on Kye in middle school. Left the zone in 1979 and moved to Arizona to a small town named St. Johns. Enjoyed the country life for 12 years there and was an associate professor at the local college teaching arts and crafts. Active in 4-H for ten years and was a judge for the county fairs. We had a cattle drive twice a year through main street!

Moved to Florida in 1990, where I am active in the PTA (past president) and I work at a local elementary school as a first grade teacher's aide. I also publish the school yearbook. Did the cub scout thing as a leader for 5 years...I love to camp!!! I am currently back in college earning a degree in educational technology. (Maybe when I turn 50!)

Thank you Bill for providing this outlet for our class. I hope people will visit this site often......see you all at the next class reunion!