Panamanians felt unhappy and polarized because the canal divided their nation. They felt like outsiders because they were not hired to be canal employees. In contrast, Americans and people of any nationality who did win canal jobs developed
exceptional pride and high morale.
Panama Canal training handbooks say no port anywhere in the world guarantees the safety of a ship in its waters to the same degree as the Panama Canal. Such safety for large ships in narrow waters depends on superb ability, judgment, and seamanship on the part of canal pilots and a host of other employees. Emergencies occasionally test employees' skills, courage, and intelligence. They respond well.
One example of a special skilled person working at the canal is Shep Shreaves. The United States awarded a Silver Lifesaving Medal to Shep "for heroic efforts in rescuing two men from a sunken U.S. submarine, October 29, 1923."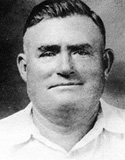 Shep Shreaves
It all started when Captain W. A. Card of the SS Abangarez "hauled up our anchor at 6:14 A.M. and proceeded towards Pier 8 at various speeds." The Abangarez was crossing Limon Bay, the Atlantic entrance to the Panama Canal.
When nearly abreast of No.4 channel buoy [I] saw submarine 0-5 ap­parently stopped off the Mole Buoy and taking on Pilot. At this time she was on the Abangarez' Port bow and started to move ahead slowly as if to clear stern of SS Arawa backing out from Pier 6. When the submarine was clear of the SS Arawa I noticed an increase in her speed as if trying to cross our bow. As soon as I decided that was [her] intention I blew the danger signal, put our engines at jull speed astern and let go our starboard anchor with fifteen fathoms of chain.
At 6:24 A.M. we struck the submarine at right angles amidships on her Starboard side causing her to sink in a few minutes.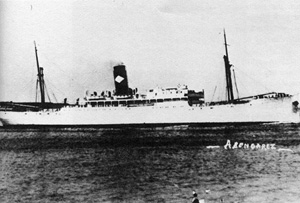 S. S.Abangarez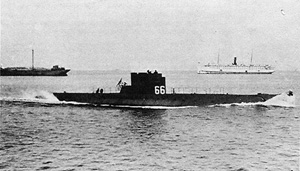 Submarine 0-5

Rescuers pulled sixteen sailors from the water; five were still missing.
A Navy salvage tug rushed divers to the collision site. Quickly they located the 0-5 on the harbor floor, rapped on the sub's hull, and seemed to hear raps from inside. Someone was trapped alive!
The Panama Canal owned the two largest floating cranes in the world, each able to lift 250 tons (275.5 mt). One, the U.S. Ajax, began sailing to the rescue. A landslide at Culebra Cut blocked the way, but two dipper dredges cleared a path for Ajax to slip through. By 10:30 P.M., Ajax was over the wreck.
Shep Shreaves volunteered to dive. He was supervisor of the canal's salvage and diving crew.
Shep donned a deep-sea diving suit and found the 0-5 by following a chain of air bubbles. "I went right in through the hole in her side. The light of my lamp was feeble against the black pitch. Inside it was an awful mess. It was tight and slippery. I was constantly pushing away floating debris."
Shep was in danger. Jagged metal could cut the hose that brought him fresh air from the surface, or debris could foul his hose, trapping him in the sub.
When I reached the forward bulkhead of the engine room I rapped with my diving hammer. Faint taps were returned. Someone was still alive. I acknowledged with a feeling of hopelessness, as I could do no more at the time.
I emerged from the 0-5. By prearrangement I signaled to lower the fire hose. The 0-5 lay upright in several feet of soft mud. I began jetting a trench under her bow. Sluicing through the muck was easy-too easy, for it could cave in on me. Swirling black engulfed me, and I worked by feel and instinct. I had to be careful not to dredge too much from under the bow, for the 0-5 could crush down on me. Occasionally I'd hit the hull to let the boys inside know someone was working to save them. Weak taps were returned each time.
Shep succeeded in jetting a narrow trench and pulled a thin guideline through it. Men on the surface used the guideline to drag a strong, four inch-diameter steel cable under the submarine. Both ends were fastened to Ajax's lifting hook. Ajax lifted. The cable broke.


A local newspaper, the Star & Herald, reported:
Up to midnight efforts to raise the sunken sub had failed and it was feared the imprisoned members of the crew would perish before the craft could be raised. Divers who have rapped against the outside of the sunken submarine have received replies from within, but the imprisoned sailors do not know the Morse code and are