Edward Sykes's (Eddie Dundee)
Personal Page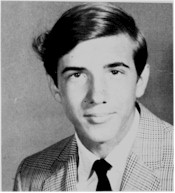 "Then"
and
"Now"
Lindsay, Debbie, Brittany and Eddie
Bio:
Graduated from BHS '70, went to CZC for 1 yr.
Got on the apprenticeship program at Mt. Hope Industrial Div. and worked
there until '77.
Married Debbie Ocheltree in Jan '77
Transfered to Dredging Division in Gamboa to the cranes Hercules and Goliath, then
upgraded to the craneboat Atlas as Mate/Craneboat in '86. The Atlas was retired in '96
and I am on the new craneboat "Oceanus".
Lindsay was born in '84 and attends Curundu Jr. High (now called the Middle School),
Brittany was born in '87 and attends Ft. Clayton Elementary.
When we leave the Canal Zone we will make our new home 30 miles south of Branson,
Missouri in the Ozarks of Arkansas.